YOVON友文机械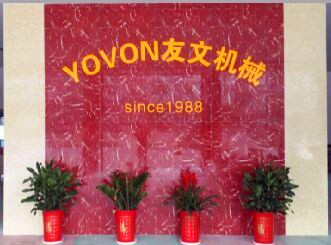 湖南省醴陵市陈氏集团友文机械厂,生产基地位于中国花炮生产重镇----醴陵,浏阳,萍乡三市交界的湘东明珠醴陵市李畋镇106国道边,她的诞生,标志着花炮行业从手工业走向机械化的开端,是一家以花炮市场为导向,自主研究专业制造机械的民营科技型企业。专业制造 :
智能车位锁:X型升降式车位锁,L型三杆防撞车位锁。
环保礼宾花:手拧礼宾花,电子组合式礼宾花。
平卷纸管机械:气泵平卷纸管机,横向磨边纸管机,全自动变压器皱纹纸管机。
包装机械:纸管卷边机,贴标机(褙皮机)。

全红礼炮纸筒制作系列机械。
鞭炮的全套设备:分纸机,200型卷筒机、鞭炮洗筒机,无声叉底机、数控插引机,智能鞭炮装药机,封口固引机,结鞭封装机;
烟花卷筒机有:盆花、礼花弹CS-8型,CS-9型数控卷筒机,彩珠筒卷筒机,双响带印花烟花卷筒机。等三十多个花炮机械品种,其中有十几种花炮机械产品多次荣获国家专利。
友文花炮机械厂现有厂房10000多平方米,加工设备200多套,车床、铣床、磨床、冲床、钻床、滚齿机床等精密机械加工设备,固定资产800多万元,积极引进人才,聘请高级工程师和专业技术人员10多名亲自研究开发和设计花炮机械。2002年,注册了"YOVON友文"商标,导入全新的CI识别系统,6S精益管理系统。从2003年,友文花炮机械 产品成功打入印度,泰国,也门等东南亚市场。
无论是企业规模、技术力量,还是产品种类,幅射范围,均居全国同行业之前列。
友文人信奉以质量求生存,以诚信求发展,制造改善花炮生产力工具,贡献于花炮行业之进展,创新发展,企业之魂的经营理念。建立一套完整的售后服务体系,设备一经售出,无论何时何地,只要您有需求,我们将在第一时间派出精英力量为您排忧解难。高品质的设备,为您的事业添砖加瓦.友文人明白:只有青山才能永久,只有绿水才能长流.有了您的支持和关爱,友文人将和您一起风雨同舟,一路前行。
Hunan Liling Chen Group Youwen Machinery Factory, the production base is located in Liling, Liuyang, Pingxiang three cities at the junction of Liling, Liuyang and Pingxiang, Xiangdong Mingzhu Liling Town 106 National Highway. Her birth marks the beginning of the fireworks industry from handicraft industry to mechanization. It is a private scientific and technological enterprise which is guided by the fireworks market and independently studies the manufacture of machinery. Professional manufacturing:

Intelligent parking space lock: X type lifting parking space lock, L type three bar anti-collision parking space lock.
Environmental protection concierge flowers: hand twist concierge flowers, electronic combination concierge flowers.
Flat paper tube machine: air pump paper tube machine, transverse edge paper tube machine, automatic transformer wrinkle paper tube machine.
Packaging machinery: paper tube flanging machine, labeling machine (leather machine).
All red salute gun paper barrel production series machinery.

The whole set of equipment of firecrackers: paper dividing machine, reel machine, firecracker washing machine, silent fork bottom machine, numerical control inserting machine, intelligent firecrackers charging machine, sealing fixing machine, whiplash packing machine;
Fireworks reel machine: pot flower, fireworks bomb CS- 8, CS- 9 CNC reel machine, colored ball drum reel machine, double belt printing fireworks reel machine. More than 30 kinds of fireworks machinery, including more than a dozen kinds of fireworks machinery products won many national patents.
Youwen fireworks Machinery Factory has more than 10000 square meters of factory building, more than 200 sets of processing equipment, lathes, milling machines, grinders, punch machines, drilling machines, gear roller machines and other precision machining equipment, fixed assets of more than 8 million yuan, actively introducing talents, employing more than 10 senior engineers and professional and technical personnel to personally study and develop fireworks machinery. In 2002, registered the "YOVON Youwen" trademark, introduced a new CI identification system, 6 S lean management system. From 2003, Youwen fireworks machinery products successfully entered India, Thailand, Yemen and other Southeast Asian markets.

Whether it is the size of the enterprise, technical force, or product types, radiation range, are listed in the same industry in the country.

Youwen people believe in the idea of survival by quality, development with good faith, manufacturing tools to improve the productivity of the monitor industry, contribute to the progress, innovation and development of the industry, and the management concept of the spirit of the enterprise. Establish a complete after-sales service system. Once the equipment is sold, whenever and wherever you need it, we will send the elite force to solve the problem. High-quality equipment, add bricks to your career. Friends understand that only the mountain can be permanent, only green water can flow long. With your support and care, you will be together with you, going on the way.
We believe that's the best way to win-win.
The heartiest welcomes to visit our machinery factory!